products
Runddrahtgliedergurte
This kind of belt is also called eye link belt. Wires are formed into eye links and joined with rods. Mesh opening is increased by inserting collars or spot welding.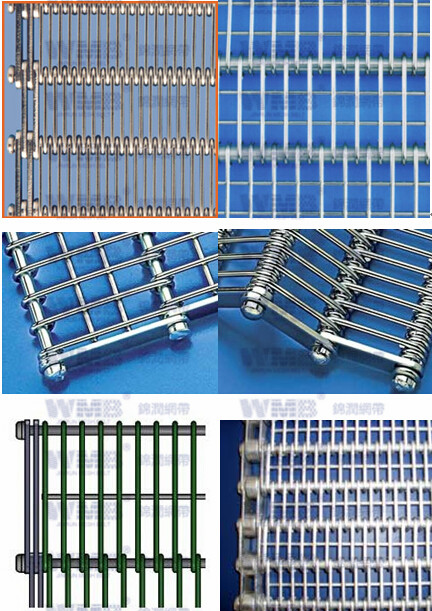 Key words
Eye-Link Belt, Eye-Link Belting, Wire Ring Belt, Eye Link Belt, Straight Running Belts, Positive Drive Belt
Description
This kind of belt could add eye-link plate in the middle or both sides of the belt, also could add supporting wires between two rods pitch.
Quality makes the difference
Unlike most competitors eye link belts, WMB belts are made of two "localization" wires. These wires not only provide additional product support but add extra stability and prevent module distortion within the belt. Accordingly, the belts are naturally straight running and provide an extremely flat surface, promoting smooth and easy product conveyor across the entire width of the belt.
Extremely open and clean
The belts can be made in some comparatively closed configurations to provide excellent small product support, they can also be configured into some of the most open designs available. The conveyor belts are great for use in applications demanding high air flow coupled with high sanitary requirements, as in freezing poultry products. Also they are also the belt of choice for pasteurizing applications.
Key using industries
Food Processing
Key application
Baking, Freezing, Washing
Typical Belt Specification
R2-4-25.4-6-2.0
A B C D
A: Eye Link Pitch
B: Rod Pitch
C: Rod Diameter
D: Eye Link Diameter
Specification

R2-6-63.5-13.8-3.0

R2-3.2-38.1-6.0-1.6

R2-5.2-63.5-12.0-2.6

R2-2.4-38.1-8.0-1.2

R2-4.6-50.8-8.0-2.3

R2-4-31.75-7.0-2.0

R2-3.2-50.8-8.0-1.6

R2-2.4-31.75-5.0-1.2

R2-4.0-50.8-10.0-2.0

R2-2.4-25.4-6.0-2.0

R2-5.2-50-6.0-2.6

R2-2.4-25.4-5.0-1.2

R2-4-50-6.0-2.6

R2-4-25.4-5.0-2.0

R2-5.2-38.1-7.0-2.6

R2-4-38.1-7.0-2.6
The specification above is just for reference,please contact us to meet your unique special needs.
Inquiry For Our Product
Please send your detailed requirements to us,that will help us offer a valid quotation.